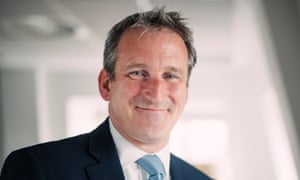 Damien Hinds' reported proposal for early years education (Children starting school 'cannot communicate in full sentences', 31 July) reflects a lack of knowledge about how language works. Firstly, the proposal conflates school-based literacy norms with the everyday speaking and communication skills that children from all social backgrounds are generally equally proficient in. The main assumption is that communication necessarily involves "speaking in sentences". It does not. Spoken language works to a communicational design that does not fit into the structures of the written language "sentence". Listen to any conversation between communicatively competent adults and you will find very few "complete sentences". Being able to write in "sentences" is necessary for school literacy but this is something that school is supposed to teach.
The report also alleges that more than a quarter of children are starting school without the "required level of speaking or reading skills". Again, speaking and reading are very different skills learned in different contexts for different purposes – so what exactly is this "required level" and who is requiring it? We suspect that Hinds is following an agenda set by middle-class speakers of standard English who assume that their linguistic conventions are the only ones worth knowing and must therefore be required of all children. This proposal for intervention in early years education will therefore very likely be based on nothing more than prejudice, dressed up as concern for social mobility. Instead of a divisive educational policy based on stigmatising the linguistic skills of some children, we need an inclusive one in which the role of the school is to value and positively build on the communicational proficiencies that all children develop in their families and communities.
For those of us who worked in early education during the Blair/Brown years, it is incredibly frustrating to hear Damian Hinds' proposals regarding the importance of working with parents to promote early language skills. The consequence of the systematic dismantling of parental support programmes in early education, of which Sure Start was one of many, is evidenced by the widening attainment gap in year 1 that Hinds cites. Why can we not sustain consistent cross-party initiatives in relation to this area? Goodness knows, there is a huge body of evidence indicating the significance of the linguistic environment in which young children develop relative to their future achievement. In addition there is a wealth of well-researched data suggesting optimum ways of helping disadvantaged parents to support their children, not just at age five, but from birth. Language deficit at age five should be addressed well before children enter formal schooling.
It is – to use Hinds' own language – a scandal that he implies it is the fault of the parents of disadvantaged children that their children do not reach the "expected" levels in communication and literacy by the end of reception. I heard similar views throughout my career in education, which included being an HMI and director of education in three different authorities. The cycle that has not yet been broken in our education system is the one that leads to the children of parents who were not successful in education going on themselves to fail. The disadvantaged do not choose to be disadvantaged and are least able to help themselves. It is the disadvantaged for whom state education is of most importance – it is their only route to improving their life chances.
Clearly, disadvantaged children are still being let down in reception, and in nursery, if 28% have not had their communication and literacy levels raised to the expected levels by the age of five. Sure Start centres were a beacon of hope that the most needy children and their parents would get the boost they needed. Since 2010 some 1,000 have been closed. That is a real scandal. We desperately need a Secretary of State who will look in the mirror to see what is wrong instead, as he and his predecessors have done, look out of the window to apportion blame to others.
 Teaching in the West Riding of Yorkshire in 1957, I had as my chief education officer the great Sir Alec Clegg. He was fully aware of what seems to have taken over 60 years to have reached the consciousness of government – that children with poor communication and literacy skills when they come into school at five rarely (if ever) catch up. Consequently, he introduced the Red House scheme whereby qualified teachers helped parents – in their own homes – to develop language and pre-reading skills. The results were impressive but the scheme was dropped through lack of funds. Plus ça change.
Our latest research shows that adult learning is transforming families, with 87% of parents taking part in courses increasing in self-confidence, 50% said their relationship with their children improved, 58% improved their confidence in helping their children with reading, writing or maths homework and 31% noticed improvements in their children's educational achievement. If we really want children and adults to achieve their potential, we must encourage adults into education and tackle the barriers they face head on. We need to make sure adults have clear pathways back into education and issues of access and progression are addressed if we are to truly drive social mobility.
Rather than insisting on children reaching certain standards, such as reading at what is an unnaturally early age, surely it would be better to follow Finland's lead and have children start school at age seven but ensure that good free nursery education is available to all prior to that – along with more support for parents who themselves have poor reading ability. The greater success of Finland's education system seems to prove that this would be one positive way to improve ours, along with enabling better contact between parents and schools, more oversight of Ofsted, and a move away from the multi-academy.