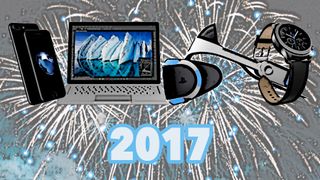 You've probably noticed that a new year is upon us, and in the midst of trying to clear away the Christmas decorations and get your New Year Resolutions off to a good start, you're probably wondering about the best tech and gadgets coming our way through 2017.
Well, we've got you covered: read on for all the gadgets and gadget trends you can expect to see in all the categories that matter. From the smartphone you'll be carrying in your pocket to the self-driving car you won't be able to buy (yet), here's what's in store.
Smartphones and more smartphones
Most of the major manufacturers have settled into an annual refresh for their flagship handsets, so predicting what's coming up is easier than it used to be: get ready for the Samsung Galaxy S8, the HTC 11, the LG G6, the 7S (or iPhone 8?), the Google Pixel 2 and offerings from the likes of Sony, Huawei and Motorola too.
For everyone except Google and Apple, the start of the year is going to be busiest – keep a special eye on (MWC), which starts on the 27th of February, as this is where Samsung, HTC, Sony, LG and others will be out in force, maybe with a new flagship handset or two.
Apple traditionally launches its new iPhones in September and it's likely that Google will bring out a and Pixel XL shortly after (it stuck to a yearly cycle for the Nexus phones so there's no reason to think the Pixels are going to be any different).
And what will this plethora of new phones bring with them? Expect technology like , waterproofing and wireless charging to become more mainstream than ever, plus the usual bumps in terms of hardware performance, software optimisations and camera tech.
A lot of the about next year's handsets have focused around curved displays, curved backs and bezel-free displays: there's even talk that Apple and Samsung will make their 2017 flagships with full-glass fronts, putting software buttons and even fingerprint readers underneath the screen so everything looks uniform.
Oh and Siri, Google Assistant and other AI apps such as should all get another big upgrade in 2017 – these personalised digital assistants are becoming more and more important on phones and other devices, especially now phone hardware has hit something of a plateau.
A tablet or two
aren't quite the headline-grabbing gadgets they used to be but there's still enough interest in them for tech firms to want to refresh their line-ups during 2017. We're talking primarily about Apple and Samsung here, though it would be good to see a few more companies get serious again about this larger form factor.
Apple will lead the way with some : expect announcements around March time, though that's only an educated guess. We might even see a new 10.5-inch iPad, along with 3D Touch for Apple's slates (possibly). Consumers don't upgrade their tablets as often as their phones, so don't expect major innovations in 2017.
As for Android, it's really Samsung and Google fighting it out. We're hoping the excellent gets another update at some point during the next 12 months, and the is also due a refresh, having originally appeared in September 2015. We're hoping to see one anyway, because the iPad could use some healthy Android competition in the tablet market. A lot of the big names in tech have shifted to 2-in-1 devices now – tablets that turn into laptops or vice versa – which brings us neatly to…